What Are Diamond Drill Bits Used for?
Polycrystalline diamond drill bit (PDC drill bits) is widely used in petroleum exploration and exploitation, horizontal directional drilling, which greatly improves the construction efficiency as well as drilling speed, and also reduces drilling time and drilling cost.
The development of diamond drill bits in recent years has been particularly dramatic—various sizes and types of diamond drill bits as pilot bits used for horizontal directional drilling (HDD). HDD is a trenchless technology that connected with mud motors can achieve higher RPM than a tricone bit.
Directional well drilling is one of the effective technologies to improve the efficiency of petroleum exploration and development, and diamond drill bits play a more and more important role in directional well drilling with their own performance advantages. In order to improve the quality of drilling, it is necessary to improve the research on the drilling trend of diamond drill bits in directional well, and improve the efficiency of directional well drilling through the research on the influence of PDC bit drilling in directional well.
GREAT has experienced engineers who can design different types of diamond drill bits, if you would like to get more information, just feel free to contact us.
How Long Does a Diamond Drill Bit Last?
We all expect the diamond drill bits to have a long service life.
Here are the main factors :
1: The diamond drill bits are not like tricone bits, if the PDC cutters are pretty good, then they can work very long.
2: It is used for suitable drilling formation, so we always ask the customers how many blades they want, what the cutters' sizes are, if they are single row or double row, spiral blade or straight blade if they have any reference pictures so that we can design a diamond bit according to drilling formation. Drilling different formation also has different ROP, runs, footage.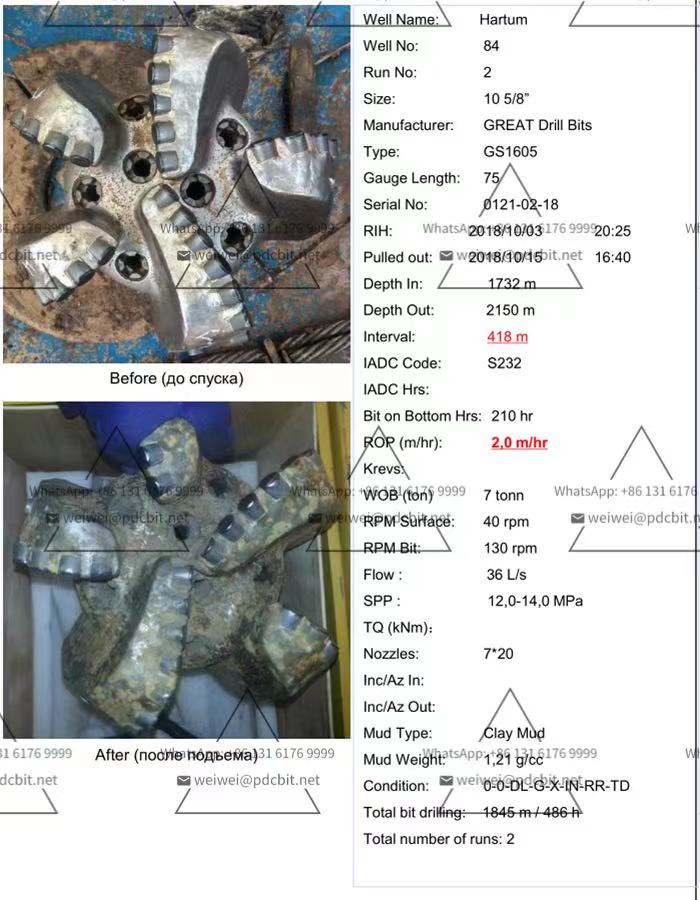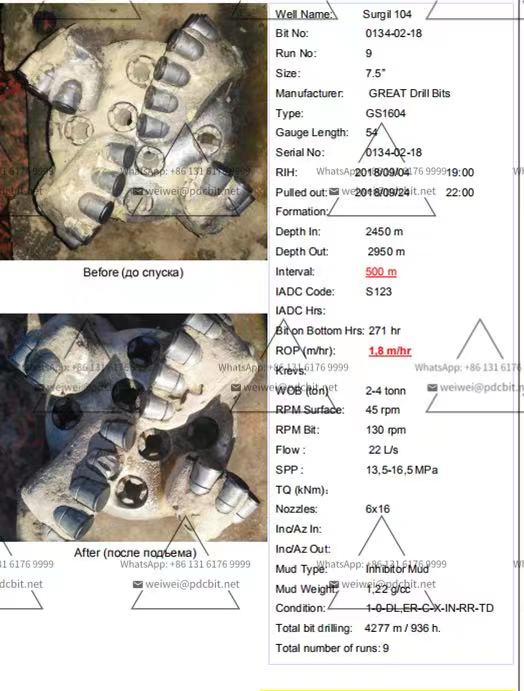 3: Choosing reliable manufacture is the most important for a long working life diamond drill bit.
With the development of science and technology and the continuous innovation of technology, the drilling process has been continuously optimized. In recent years, our company has strengthened the close cooperation with drilling company, optimized the diamond bit according to the targeted design of different blocks and different formation lithology, continuously optimized the diamond drill bit selection, greatly improved the mechanical drilling rate and extended the service life of the diamond PDC bit.
How to Use a Diamond Drill Bit?
BRIEF IN GREAT PDC BIT OPERATION MENU
A.The hole preparation
a)Make sure the hole is clean and no any junk.
b)Run previous bit with junk basket if junking anticipated
B.PDC Bit Preparation
a)Remove bit from packing box.
b)Stand bit on wood or rubber cushion - not on steel decking.
c)Record bit number.
d) Inspect bit for damage.
e)Screw up proper bit nozzles according to drilling engineer's design.
f)Check inside of bit clean and junk free.
C. Making up the bit
a)Clean and grease the pin and box.
b)Fit bit breaker to bit and engage latch.
c)Fit bit breaker in rotary table.
d)Torque up with Recommended torques.
D. Tripping in
a)Approach casing shoe/obstructions cautiously.
b)Ream tight spots - see reaming.
c)Last joint - wash to bottom.
d)Tag bottom gently with full flow and low RPM.
e)Circulate for 5 minutes.
E. Reaming
a)Reaming under - gauge holes are not Recommended - only tight spots.
b)Full flow.
c)Low WOB - 1/10 max. WOB.
d)Maintain a low ROP and high RPM
e)Avoid high torque.
F. Drilling in
a)Low WOB to drill first foot - cutting profile.
G. Making connection
a)Full flow until Kelly up.
b) Making connection.
c)Record pressure on and off bottom.
d)Check pump strokes.
H. Drilling ahead
a)Find the optimum drilling parameter for each formation within recommended limit - by varying - WOB - RPM - flow.
Do not forget and set:
Soft formation- High ROP increases risk of plugging. Hard stringers- Reduce RPM to avoid overheating. Limit WOB - high WOB shortens bit life.
b)Survey - Regular survey recommended.
I. Unplugging
a)Blocked waterways - increase in pressure difference off and on bottom.
- Kick brake.
- Maintain full flow.
- Maintain rotation.
b)Blocked nozzles - increase in pressure drop off and on bottom.
- Circulate for 5 minutes.
- Raise Kelly, allow to fall rapidly - avoid surge.
- Do not drop bit on bottom.
Where to Buy Diamond Drill Bits?

We are a reliable manufacturer of PDC bits (Diamond drill bits ), tricone bits, hole openers/reamers since 1989. Our brand is GREAT which looks like China GREAT WALL and wish to keep it longer and stronger.

Design:
GREAT has a professional team for R&D, production PDC Bits.
An experienced Team of Design Engineers and a deep understanding of elements ensures high-performance PDC Bit designs and manufacture.
Great can keep the secret and patent if our clients supply the drawings.

Manufacture:
Great bits are manufactured in API 7-1 & ISO 9001 manufacturing facility.
Blanks are hot forged & heat treated before machining.
The blank machining is done on the world's latest multi-axis CNC Machines from Mazak, Japan.

Quality test report:
Great Bits are seriously manufactured according to clients' clear target requirements.
All our bits are proved to be with satisfied quality test report from our international markets and domestic.

Strategy:
High quality with the best price is our advantage for long-term cooperation.
Great has gained a high reputation in China and international markets.

Service:
Great staff are with abundant export experience.
Considerate after-sales service.
If you are looking for a quality product, please first take several minutes to get more ideas about GREAT bits. You will find it is a very competitive product.