Steel body PDC bit can be customized for oil well, water well, mining, explorer well drilling.
Suitable Formation: Various hardness rocks or mud except for the hardest hardness or ununiform rocks like cobble.

Application: Water well, Petroleum & Gas, Water well, mining and tectonic.
The diameters of these PDC drill bits for sale range from 3" to 36" with a variety of cutters and optional back-out cutters as well as various blade counts.
Steel Body PDC Drill Bit GS1606T Specification
Specification of Steel Body PDC Drill Bit GS1606T
IADC Code

S333

Blade

6

Cutter Size (Mm)

Φ16

Face Cutters Qty

(55)1613; (42)1308; (30)1305;

Nozzles

6

API 6 5/8'' Reg Pin

Junk Slot Area(In2)

29.7

Gauge Length (mm)

75

Make up Torque (Kn.m)

51.7-56.9
Operating Parameters of Steel Body PDC Drill Bit GS1606T

Rotary Speed (rpm)

60-260

Weight on Bit (KN)

5,0-14,0

Max. WOB (KN)

17,0

Flow Rate (lps)

38-70
Features of Steel Body PDC Drill Bit GS1606T
Spiral blade, directional drilling design.
6 Curved Blades

16 mm Cutters

Force-Balance Design

The layout of different patented PDC cutters enhances the capability to drill hard stringers.

CFD Technology Is Applied In Optimizing Hydraulic Efficiency.

Hard alloy hydraulic sleeves are installed to increase the service life of the hydraulic components of the bit. The use of bits without hydraulic nozzles may cause the sleeves to fall to the bottom of the well and lead to wear of the cutters.
This is a 6 blade with 1613mm cutters PDC bit, which is used for vertical drilling. After optimizing the design, this bit has achieved 1.5 times higher ROP than our competitors.
Quality Inspection of Steel Body PDC Drill Bit GS1606T
As one of the most professional drill bit manufacturers in China, GREAT has strict quality inspections on every drill bit we produce. Here is the inspection process.
Cutters test

Nondestructive test

Checking the PDC pocket.

Brazing Quality inspection.

API thread test.

Bit size detection.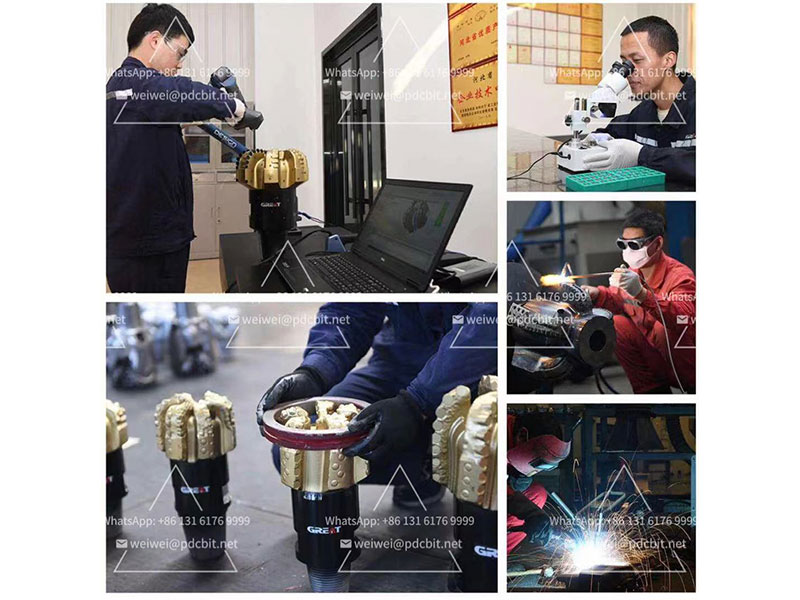 If your drilling has any problem, GREAT can provide a solution and service.