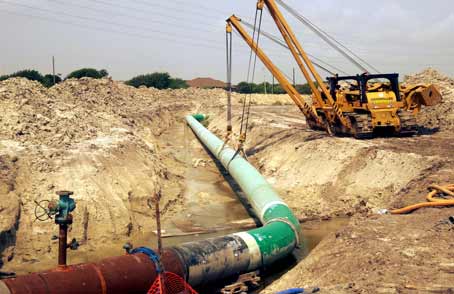 On the surface of the horizontal directional drilling (HDD) is not excavation surface conditions, the laying of a variety of underground utilities (pipes, cables, etc.) of a drilling way, it is widely used in water supply, electricity, telecommunications, gas, gas, oil and other pipeline construction, it is suitable for sand, clay, pebbles and other DeKuang, GREAT can choose different models according to different formation of pipeline construction.
The operating environment temperature is -15℃~+45℃.
Horizontal directional drilling technology is a new construction technology that combines the directional drilling technology of petroleum industry with the traditional pipeline construction method.
Directional drilling control direction:
Wired directional control: long distance, deep penetration, and large rig use
Wireless direction control: short distance, shallow crossing, and small and medium-sized drilling rig use, direction control is convenient and accurate but limited by depth, terrain, less use.
Commonly used directional well drilling products are Tricone bit and PDC bit.
Horizontal well is a kind of directional well.
Trenchless refers to the use of a variety of rock and soil drilling and digging equipment and technology, through guidance, directional drilling methods such as in the case of a very small part of the excavation surface (generally refers to the entry and exit) small area excavation, construction, replacement and repair all kinds of underground pipeline laying technology, not blocking traffic, not green, vegetation destruction, will not affect the stores, hospitals, schools and people's normal life and work order, solve the traditional excavation disturbance to the residents, the traffic, environment, the destruction of the surrounding buildings foundation and adverse effects, therefore has high social and economic effect.
Drilling a pilot hole, hole opener(Rock reamer) and pipe installation are the three basic steps of horizontal directional drilling (HDD).